Some MediaMax silliness
These are some images I made to amuse and/or annoy some people I work with at a place downtown called MediaMax.
POWERPUFF IMAGES
During the election results coverage of 2000, I fled to the Cartoon Network in search of more meaningful programming, and discovered what is now one of my "most favoritest" cartoons: the Powerpuff Girls. I began to notice some physical and personality similarities with some of the people I worked with at Media Max, and was stuck at home with nothing much to do one rainy Saturday afternoon. So I drew some characters up in Illustrator, and found (to my surprise) a Powerpuff font. This image is the result.
A conglomeration of the drawings, on the appropriate racing-by orange background.
After doing the first one, I put together these desktop images from the Illustrator sources, only with different backgrounds and names.
| | | |
| --- | --- | --- |
| Tracy, commander and the leader. | | Leeanne, she's the toughest fighter. |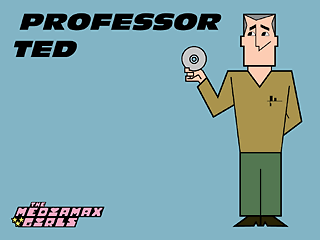 Ted, who accidentally added Chemical X to the concoction.
THE PIGKILLER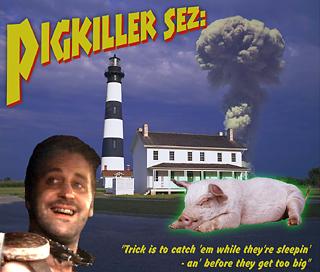 The Pigkiller is an old, way-inside joke involving a postcard, Mad Max: Beyond Thunderdome, and Kirk, who I think looks like the pigkiller. Anyway, nobody outside mmax will get the joke, but I liked how the mushroom cloud came out. They're just lucky I haven't done MediaMax: Beyond Thunderdome - yet!
Up